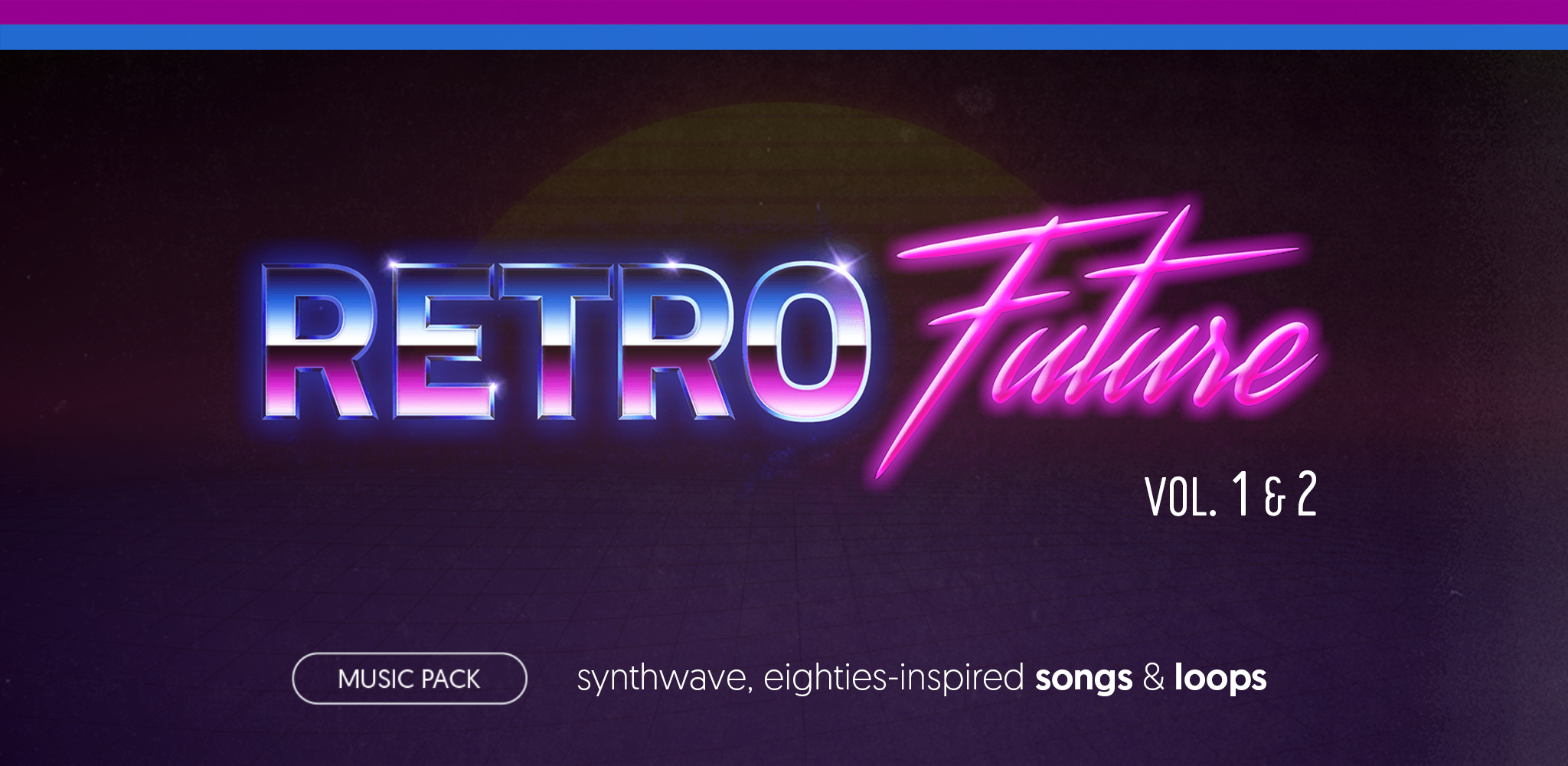 Retro Future Complete (vol. 1 & 2) - music pack
A downloadable asset pack
Go back to the neon-lit decade of the 80s with this collection of bold synthwave electronic music. Perfect for games with a cyberpunk, retro-futuristic setting.

Produced and composed by Andrea Baroni.
It contains songs and loops, to create a cohesive and professional soundtrack for your game.
A license is included in the package and it allows unrestricted usage of these assets for commercial or non-commercial projects of any kind
---
---
12 full songs (average length 3.2 min)
5 short songs (average length 1 min)
74 loops (from the songs above)
A total of 92 tracks.
47 minutes of original music (90 minutes total) - 44kHZ 16bit wav & ogg files .
---
SUPPORT ME ON PATREON:

And have the option to download and use all of my assets here on itch.io, plus have access to many more assets, updates, and request custom changes.
---
DOWNLOAD A FREE MUSIC PACK:
Join Andrea Baroni's newsletter and download a free music pack with 16 tracks from his best-selling music packs, ranging from chiptune to epic orchestral compositions.
Purchase
In order to download this asset pack you must purchase it at or above the minimum price of $24 USD. You will get access to the following files:
Cyberleaf-RetroFutureComplete.zip
1 GB
Comments
Log in with itch.io to leave a comment.
Incredible music! Just wanted to say that :)
How does Content ID influence streamers of a game which makes use of this music. Would they have problems with monetizing or take down of their videos for example?
Hi Leslie,
These songs are not royalty free, but they are not registered for Content ID, meaning platforms like YouTube and Twitch cannot detect their usage. I chose not to, so to avoid that kind of situation.
If you ever have any issues, as the developer, you of course have the license that you get when you buy the pack from here, to prove that you have the rights to use that specific audio track. For streamers, I believe that when they show the game footage or gameplay the copyright will fall into the "Fair Use" law, since it's beneficial for everyone. But as I said, having not registered the tracks for content ID the algorithm should not detect and start annoying complaints automatically (and no complaints will be manually created by me of course :) ).
I hope this answers your question!
How about for YouTube videos?
Hi!
Yes, you can use these songs on YouTube videos as well. They are not royalty free but they are not registered for content ID, so for YT to identify and eventually block them. You get the license of course when you buy the music pack, so you are fully entitled to use them in your games or videos.
In any case, if you are going to use these songs and you ever get any copyright issues on YT just let me know (but that never happened before, as far as I know)
I understand. As long as I buy the pack, the license will cover YouTube usage too. Thank you for your reply!
I swear that you are a lifesaver as this music is a blessing to my current WIP. Thank you so much for making your work available to indie developers !!
Thank you for your kind words. I am really happy you found my assets useful for your game!